Why CETA makes sense for Europe
As much European chatter these days is about the Transatlantic Trade and Investment Pact (TTIP), another trade agreement between Europe and Canada is close to being finalised. While the Comprehensive Economic Trade Agreement (CETA) has opponents on both sides of the Atlantic, the new Canadian Liberal government has called it a "gold-standard" agreement. We invited a European supporter of the deal to explain why the first trade deal between the EU and a major world economy is good for Europe.
Deirdre Clune is an Irish Member of the European Parliament from the Fine Gael Party. She is a member of the European Parliament's Delegations for relations with Canada.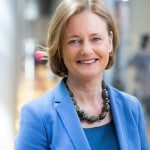 The pact will effectively give EU businesses a new market into which they can tap. The idea is to address current issues that EU goods and services face when doing business in Canada, simplifying the process for EU firms at Canada's federal and provincial level. The deal could save EU exporters around €470 million a year for industrial goods and €42 million a year for agricultural products.
 Investment is also a key pillar of this agreement. Canadian companies in Europe create jobs and export from the EU to foreign markets. The value of the goods they produce in the EU is worth much more than all EU-Canada trade, so supporting this investment is key.
In the EU, we want our businesses to grow. Workers and entrepreneurs work to allow this to happen but it is the regulators' job to create the environment. CETA opens up a whole new market that EU businesses can use to grow through changes such as:
the elimination of nearly all import duties,

allowing EU companies to bid for public contracts in Canada,

enabling EU firms to access Canadian services and investment markets,

allowing European engineers, accountants and architects to provide their services in Canada, and

helping stop European innovations, artworks, trademarks and traditional food products from being copied unlawfully in Canada.
In 2013, the EU imported goods from Canada worth €27.3 billion, while exporting goods worth €31.6 billion. In terms of trading partners, Canada is one of the EU's highest at 12th and the EU is the second most important trading partner for Canada after the US.
All products traded between the EU and Canada will see a significant reduction in tariffs; scrapping 99% of all customs duties. This will be of huge benefit for all exports including European wine and spirits exports.
Despite this considerable liberalisation there must be protection in some particular areas, namely in agricultural goods, protected through the use of quotas. The Canadians will have a cap on how much beef, pork and sweet corn they can export to the EU. In the case of beef, the cap is at 45, 838 tonnes or 0.6% of total beef consumption. There will be no trade liberalisation in poultry and eggs.
Quality farming and food is important and is not something that the EU should sacrifice. CETA shows how we can have a trade agreement while not having to compromise on our high-quality EU food and produce.
Canadian products can only be imported into the EU as long as they are up to EU standards. For example, no beef containing growth hormones or GMOs would be allowed into the EU.
CETA is the most far-reaching agreement ever concluded by the EU regarding services and investment. European firms will now be able to provide specialised maritime services like dredging, moving empty containers, and shipping certain cargo within Canada. European companies will also have new advantages when it comes to getting investment projects approved in Canada. The protection of investments and enforcement of rights through legal frameworks is essential for any business. Since CETA does not usurp EU or Canadian law, it cannot be used as a legal basis in EU or Canadian courts. In an ideal world, EU companies should be treated the same as Canadian companies by Canadian law but we don't live in an ideal world and we have to put a provision in place that foresees this. So to keep it fair – international law can be used. 
CETA will not allow firms sue governments just because profits might be affected. Only legitimate breaches of CETA will be considered for legal action since cases must fulfil specific criteria.
The EU wants to be economically closer to Canada. It just makes sense. Canada is like-minded, is a sizeable market and has natural resources that the EU needs. Overall the deal would be expected to lift EU output by about 12 billion euros a year.
Negotiators have agreed to the text and the legal crossing of the 'T's' and dotting of the 'I's' has just finished. Currently, the text is being translated into all official EU languages. When done, the agreement will go before the EU Council and the EU parliament to be approved.
The information and views set out in this post are those of the author and do not reflect the opinion or position of Binda Consulting International Ltd.