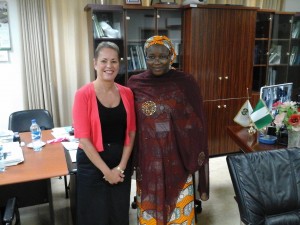 Just back from Nigeria conducting an evaluation for International IDEA on their support to the Nigerian Independent National Electoral Commission (INEC). I very much enjoyed meeting the Commission's Acting Chair, Amina Zakari (pictured here) and the talented staff at the election commission.
Together with the African Union and the Government of the Netherlands IDEA has supported the INEC to implement the Electoral Risk Management Tool.  You can read all about the Tool on IDEA's website.  Nigeria is a big, complex election environment and the March 2015 elections were considered historic as the first time an incumbent Nigerian president has ceded power based on losing an election.  With almost 70 million voters, organizing elections is no small feat for any election commission!
Thanks to everyone in Abuja for facilitating or participating in great meetings.
Francesca