Kosovo Election Watch: Week 1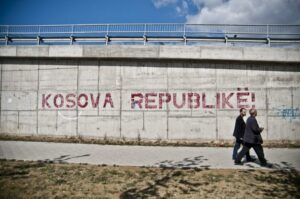 Voters of Kosovo will vote in a Valentine's Day poll, February 14th, 2021. These are to be the third successive 'extraordinary general elections' in four and a half years. They are considered extraordinary because they fall outside the four-year election cycle. In these four and a half years no government has been able to fulfill a full mandate.
On December 22, 2020, the Constitutional court ordered these extraordinary general elections because it ruled that the vote held to affirm the current government was illegal since, Etem Arifi, a member of parliament who participated in the vote, had been judged ineligible to sit as a member of the National Assembly. Kosovo politics may seem complicated, but it's not really. Like most political communities it's more of a soap opera, you need to keep current of who is doing what and understand why. Think of BCI as that friend that is getting you up to speed on the latest telenovela.
What might be helpful is to start with a bit of a timeline and some context.
2007: LDK LOSES ELECTIONS
The Democratic League of Kosovo (LDK), established by the pacifist opposition to Slobodan Milosevic, loses parliamentary elections and the government to the Democratic Party of Kosovo (PDK) led by Hachim Thaci, a former commander of the Kosovo Liberation Army (KLA) the armed opposition to Milosevic.
2008: INDEPENDENCE
Kosovo declares itself an independent and sovereign state leaving Serbia. Many key countries recognise its statehood, but significantly, several important EU and UN Security Council member states do not.
As an independent state, Kosovo is a presidential republic with a National Assembly of 120 members. Twenty of those seats are reserved for ethnic minority communities (Serbs, Turks, Roma, Ashkali, Egyptians, Bosniaks, and Gorjene).
2010: FIRST POST-INDEPENDENCE ELECTIONS
General elections return Hachim Thaci and the PDK to power, in coalition with Behgjet Pacolli's New Kosovo Alliance (AKR). Pacolli, a millionaire construction magnate presents a pro-business and economic development agenda that appeals to many voters, who believe he is incorruptible because of his wealth.
2014: INCONCLUSIVE ELECTIONS WHERE WINNERS & LOSERS SHARE POWER
spoiler alert — this is where it starts to get messy
The "inconclusive election" in which PDK wins more seats than any other party, but a LDK coalition manoeuvres to retake power. LDK, under pressure from the international community, relent and forms a coalition with PDK – setting into motion an LDK split with Vjosa Osmani, a popular young technocrat and LDK activist who served as an advisor to the first President of the Republic of Kosovo.
2017: EXTRAORDINARY ELECTIONS, TAKE ONE
An extraordinary election was triggered by a vote of non-confidence in the LDK prime minister Isa Mustafa. Knowing that no one party could secure enough seats to form government, the major Albanian parties coalesce under "war wing" and "peace wing" coalitions, except for rapidly rising party Vetëvendosje Movement (VV). The contest effectively becomes a three-way race between VV, the war wing PAN coalition (PDK, Alliance for the Future of Kosovo, Nisma), and the peace wing LDK, Alternativa, and AKR (LAA coalition).
There is no clear majority after the election until PAN manages to break AKR away from the LAA coalition to take seats in a coalition government with the PAN parties. Ramush Haradinaj, leader of Alliance for the Future of Kosovo (AAK) and a former KLA Commander — twice tried and acquitted for war crimes — is appointed Prime Minister by the governing coalition.
2019: EXTRAORDINARY ELECTIONS, TAKE TWO
Extraordinary elections are triggered by the resignation of Ramush Haradinaj who is summoned for questioning before the Kosovo Specialist Chambers and Specialist Prosecutor's Office, a judicial body based in the Hague investigating and prosecuting alleged war crimes.
Vetëvendosje surges in the polls to obtain the most seats than any other party, but not a majority enabling it to form government. It enters difficult negotiations with LDK to form a coalition government. At issue, who should be prime minister and which ministries go to which party.
2020: POLITICAL MELTDOWNS ALL AROUND
In February a coalition agreement is finalised with VV's leader Albin Kurti taking the Prime Minister's position, and Vjosa Osmani, touted as LDK's Prime Ministerial candidate during the election, becoming Speaker of Parliament.
In June, over objections to a dismissed LDK minister, the LDK trigger a vote of confidence in Albin Kurti. VV and Kurti are removed from office and LDK's Avdullah Hoti becomes Prime Minister in coalition with Serb parties, AAK, and NISMA.
In November, President Hachim Thaci resigns to face criminal charges in the Hague with three other co-accused. Vjosa Osmani, stripped of her leadership in LDK for protests to the vote of non-confidence, becomes acting president. LDK suffers a significant electoral loss to VV in Podujeva's extraordinary mayoral election.
In December, ruling on an objection filed by VV, the Kosovo constitutional court decides Hoti's Government was not legally formed because a deciding vote of non-confidence was cast by a member with a prior criminal conviction and therefore ineligible to hold office. Importantly the court upholds that prior conviction is a barrier to office, leading many to speculate that several VV members convicted of actions in protests will be barred from upcoming elections; this includes Albin Kurti who was convicted for releasing tear gas in the legislative chambers in protest.
2021: EXTRAORDINARY ELECTIONS, TAKE THREE
January 2021, Acting President Vjosa Osmani announces parliamentary elections for February 14, 2021.
Some key things we'll be watching
What will the tone and key messaging of the campaigns be?

Vjosa Osmani (the second-highest voted MP in 2019) with her Civic Initiative has coalesced with Albin Kurti's (the highest voted MP in 2019) VV, bringing with her more than ten candidates, some defectors from LDK.

VV enters the elections with momentum fresh off its win in November's extraordinary mayoral election in Podujeva, taking the seat in the first round of voting from LDK which has long held the seat and region.

The PDK is going into this race without two key pillars of their party – Hacim Thaci and Kadri Veseli. They are both in the Hague awaiting trial for alleged crimes committed in 1999 and 2000. PDK dominated Kosovar politics for the better part of the last 13 years.

Will smaller Kosovar Albanian parties make the 5% vote threshold to continue being seated in the parliament or will strategic voting result in these parties being sacrificed for a definitive outcome?