International Women's Day Is Just the Start
For International Women's Day 2016, we invited Italian Member of the European Parliament, Barbara Matera to share her thoughts on why there is still much to do to reach 'Planet 50-50'.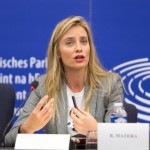 Today we mark International Women's Day, an occasion to look back on the past century of the fight for women's rights and look forward to the obstacles we still face. A lot has changed in the hundred years since International Women's Day was first celebrated, but the progress has been unfortunately uneven, and the face of the problem has changed too.
 Women in most countries have gained the right to vote, but they are still underrepresented in most governing bodies. Women are working in record numbers, but they are still often paid less than men for equal work. More girls are going to school more than ever before, but they still often drop out early because of family obligations.
The theme of this year's International Women's Day is 'Planet 50-50'. I find this theme especially important for two reasons: first, because it highlights the ultimate goal of women's rights, which is equality between women and men; and second, because it reminds us to focus on equality worldwide.
Here in Europe, the most prominent form of inequality between women and men is economic. In some respects, this problem is very visible: women earn, on average, €.84 for each €1.00 earned by a man for equal work. This discrepancy ranges on a Member State basis from 3% in Slovenia to 30% in Estonia in 2013, according to Eurostat. The courts must work harder to prosecute this type of discrimination, and meanwhile, legislation should be enacted to promote wage transparency and the de-gendering of the wage negotiation process.
Around the world, this discrepancy is even more pronounced, with men worldwide earning on average twice much as women. In fact, despite women's earnings almost doubling in the past decade, men's also doubled, leaving the gap twice as large, according to the World Economic Forum's Global Gender Gap report. The report estimates that the worldwide pay gap will take 117 years to close. Paying women less for the same work is a discriminatory practice harmful to everyone involved, so every country needs to work harder at closing the gap.
In other respects, economic inequality is much more nebulous and hard to prove. One example of this is in gender balance in corporate boards. Given women's participation in the labour market in Europe, women are disproportionately left out of management positions in large corporations. In 2010, just 3% of Presidents of the Boards of the largest companies in the EU27 were women, and only 12% of members of these boards were women, according to a 2012 report by the Directorate-General for Internal Policies on 'Gender Quotas in Management Boards'. The EU is not on track to reach its goal of 40% female representation on management boards by 2020. To solve this, we need enforceable quotas, which worked in Norway after just five years of implementation.
Discrimination against women who want to invest or start their own business is a real and researched phenomenon. In different ways across different Member States, women are rejected for loans because banks don't think women are a good investment in case they have children and start working less. In a 2015 report on Women's Entrepreneurship by the Directorate-General for Internal Policies, case studies in the Czech Republic, Italy, Sweden and the UK found that women were rejected for bank loans for various cultural reasons, but the problem exists in each country, and family life is a used as an excuse for discrimination everywhere. In the meantime, women are being used as fronts so that businesses to qualify for government benefits but take on the bulk of the risk.
The most effective solution to this problem is to support women who choose to work and have a family. Parental leave for both parents must become regular across Member States, and should be protected so it does not pose harm to a parent's career. And in the end, we need stronger legal protections from discrimination against women who want to invest or start a business. We need to send a message that such discrimination will not be tolerated. My report, 'On external factors that represent hurdles to European female entrepreneurship', passed in January, describes this problem in more detail and provides more solutions.
The best way we can ensure equality in the workplace of the future is to encourage equality in the education that young Europeans receive. Girls are all too often discouraged from entering STEM fields or business; we must guarantee that young girls not be stereotyped into traditionally female careers and that they have all the opportunities their male peers do. And we must follow this up with opportunities for lifelong learning for women who want to change careers or re-enter the workforce.
But the recent migrant crisis brings to Europe another set of problems for women. The evidence suggests that women migrating to Europe are subject to a slew of potential human rights violations, including human trafficking and sexual exploitation. We have found instances of women paying for transport to Europe with sex. And in the under-regulated environment of the refugee camps, women can be abused by family members or fellow migrants. Now, as trends are reversing and more women and children are coming to Europe, we must be especially wary of these risks and take action sooner rather than later.
Today is the day the world stops to recognise the fight for women's rights and gender equality, but we must not let today's rhetoric lead us to forget how much work remains to be done. We must keep up the level of dedication displayed today in the European Parliament and in other events around the world and continue it year-round.
In the Committee for Women's Rights and Gender Equality in the European Parliament, we work hard every day to address these issues. We stand up for the rights of women who are getting paid less than their male peers; of women who are hindered from starting their own business because of discrimination at the bank; of women who risk everything for a chance at safety in Europe.
Around Europe and around the world, everybody can contribute to the cause of women's rights and gender equality. Parents can instil a sense of opportunity to their children regardless of gender; business leaders can be more conscious of their practices; voters can support female candidates.
 We've come a long way, but we must not lose the momentum that we have gained, especially in the face of the multiple crises Europe currently faces. So, we must take this day not only to reflect on our progress, but also to renew our commitment to the fight for women's rights. Today is just the start of the next step in our fight for women's rights.
Barbara Matera is an EPP MEP from Italy and is the Vice President of the Committee on Women's Rights and Gender Equality in the European Parliament.