From PNG to Romania – recent BCI activities
The BCI Team has been busy and working on inspiring activities with amazing people.   Here's what we've been up to…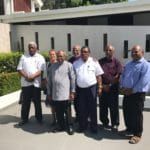 Carlo and Francesca travelled to Papua New Guinea (PNG) in June to support programs of the National Democratic Institute (NDI).  In PNG, we worked with political parties, civil society and religious leaders towards mitigating election-related violence for the recent parliamentary elections.  Political parties came together to call for peaceful elections and religious leaders united in a commitment to promote a non-violent election environment. The election process in PNG is complex and fraught with corruption, administrative and logistical challenges, and exacerbated by violent feuds among some of PNG's more than 850 diverse ethno-linguistic groups.
We also, through NDI, provided support to the inspiring team at the PNG YWCA, which regularly runs programs supporting young women leaders.  In the period after voting, the YWCA is conducting public awareness on the issue of gender-based violence.  As part of NDI's #notthecost initiative to stop violence against women in politics, the PNG YWCA is taking to the radio and TV to talk about election-related violence against women.  The organisation is highlighting the campaign on its Facebook page with posts like this:
Finally, Francesca recently returned from Romania where she spent a weekend in the beautiful mountain resort of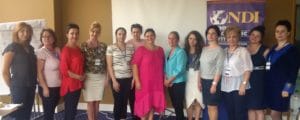 Sinaia working with new women members of the Romanian parliament and staff on policy development.  While Romania (as with many countries) has a long way to go to obtain gender equality in the legislature, the new women representatives are motivated to implement real policy initiatives that matter most to their constituents.  During the weekend, participants of the NDI-sponsored workshop highlighted pay equity, agriculture, falling birth rates and gender-based violence as crucial issues needing well-thought out policy solutions.