Empowering women and young girls: International Day of the Girl Child
October 11, 2017 was International Day of the Girl Child.  This year's theme was 'EmPOWER Girls: Before, during and after crises.'  According to the United Nations, adolescent girls in conflict zones are 90 percent more likely to be out of school compared to their peers in conflict-free countries. We know, from experience, that although women often make up the majority of activists who provide assistance during conflict, they also face exploitation, gender-based violence and marginalisation. 
Having lived and worked in several conflict zones, the BCI team didn't think one day was enough to talk about this.  We invited four members of the European Parliament, over the next week, to contribute their thoughts on the empowerment of women and girls. 
The second of our guest blogs is from British MEP Clare Moody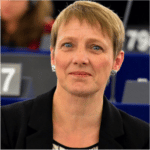 The European Parliament recently hosted a 'Girl2Leader' event for International Day of the Girl, where young women came to Brussels from across the EU to see that politics IS for them. Events like this are important as they seek to involve more girls in the decision-making processes that directly affect them, and inspire them to follow their own path into politics.
As part of the day, I and other women MEPs explained how, and in particular, why we came into politics. It was striking that none of us saw elected politics as our destiny when we started our paths toward becoming MEPs, but we had all experienced in some way the difference that politics had made to women, either personally or professionally. That experience now runs through our work in the parliament, regardless of the area of legislation we are focused on.
While reflecting on our personal journeys it is also important to reflect on how far women have come in general. Over 37% of MEPs are women compared to 16.6% in 1979 and 34% in 2010. The British House of Commons has just elected the highest number of women in its history; with 32% women MPs, and Sweden has 44% women parliamentarians. However, there is not a universal picture of achievement across Europe – in Hungary only 10% of MPs are women whilst women make up less than 25% of the national legislatures in nine of the 28 Member States. Indeed, it is notable that the House of Commons highest level of female representation still means, in the 21st Century, that fewer than 1 in 3 MPs are women. Worldwide, women only represent 21.9% of politicians whilst 95% of national leaders are men.
Just as we can't say there's a universal picture of good news across Europe on women's representation, we should not take the progress that has been made for granted and assume that time will solve all remaining problems. Progress has been made because there have been conscious efforts to deliver that change. Whether that be through alternating lists in proportional elections or through all women shortlists in first-past-the-post systems. Some political parties have done a good job over years and decades of mentoring women, some changes have come about through women's networks or because individuals have become mentors helping women to get through the political systems that have been built up around men. Ensuring that women serve in visible political positions is key to accelerating progress, as it makes young women aware that this is a possible future for them too if they want it. National governments and political parties must make more of an effort to ensure that more women are given the visible leadership roles that they deserve.
However, while we see some progress, there are other dark clouds gathering. In recent years, we have seen a worryingly high increase in online abuse and the majority of this is directed at women, with high profile politicians regularly receiving sexual abuse threats that no one should ever have to experience. We also now have a US President who thought it was acceptable to brag about groping women and who regularly objectifies women, describing them using terms such as 'fat', 'pig', 'dog', 'slob' and 'disgusting animal', and yet was still elected as President of the United States. This makes most women angry but we cannot pretend that it doesn't also put women off taking a public role.                                                                                                              
This is why it is so important that we must not lose track of the reasons we, as individuals, entered the political sphere in the first place, and encourage more young women to do the same. Some of the reasons we came to politics were directly related to women – for example I first realised the benefit of EU legislation to women in the 1990s when fighting for part time workers to have access to pension schemes. Others have been motivated by issues that women face across the world, for example, the fact that the majority of the 628 million young people that are not in employment, education or training are female. Some are motivated by the impact of adopted policies on women, for example, the disproportionate impact austerity has had on women in so many countries.  Even where there is not a direct relationship between gender and the reason or motivation for becoming involved in politics, more women in the political sphere leads to a greater awareness of the impact of policy-making on women and girls.
It is the responsibility of all of us to remain united in fighting for gender equality and against misogyny to show the world that we do not shy away from breaking down obstacles and barriers and instead seek to protect and empower women and girls. Children are conditioned from a young age about what roles, personality traits, and career choices are acceptable for their gender. This leads girls to believe that leadership and politics are not something to aspire to. We must make it our daily aim to challenge negative gender norms and encourage women and girls to recognise and use their power to shape decision-making at every level.
Clare Moody is a Labour Member of the European Parliament from the United Kingdom.