"Hear Me Too" is a powerful tool in ending violence against women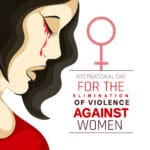 When I heard that this year's theme for the International Day for the Elimination of Violence Against Women is "Hear Me Too," I remembered a time, not so long ago when publicly speaking about gender-based violence was discouraged and even ridiculed.
In 1982 a Canadian Member of Parliament stood in the House of Commons to raise the issue of domestic violence.  Her fellow (yes, male) MPs heckled and laughed while Margaret Mitchell told the nation that "one in ten husbands beat their wives."  As a young political activist, I was proud that one of our MPs was raising a taboo issue and appalled at the reaction to her statement. Margaret's comments are often referred to as a "watershed" moment in Canada that broke our collective silence on an issue affecting so many. Thankfully, because of women like Margaret, Canada (and many other countries) has come a long way in 36 years in the way we speak about and deal with domestic violence.  But, globally (including Canada), violence against women continues to be a problem of shocking proportion.
According to the United Nations, 49 countries lack laws protecting women from intimate partner violence. More than 603 million women live in countries where domestic violence is not considered a criminal offence.  Even where laws exist, mechanisms to protect women and punish violators are under-resourced. Law enforcement institutions are catching up to recognise that "domestic" violence is not a private matter to be ignored and dealt with en famille.  Professional resources like counsellors and safe houses are still woefully underfunded in many wealthy countries.
Ultimately, even in progressive and developed nations, discussing intimate partner violence – let alone seeking help – continues to be taboo.  The UN estimates that less than 40% of women who experience violence seek help of any sort.  When they do, most turn to friends or family rather than formal institutions such as police and health services. Of course, private, "domestic" against women has an impact on women's participation in the public sphere.
Writing in the Guardian newspaper this week, Rebecca Solnit asked whether bullying and intimidation lead husbands to control the votes of their wives.   Based on anecdotal observations of door-to-door canvassers in the recent American mid-term elections, Solnit suggests that this form of voter intimidation is "a reminder that many women are not free and equal in their domestic lives."  Unfortunately, as Solnit points out, the lack of data in the US elections means we cannot know the extent of intimidation and how it prevents women from making independent choices. 
Thankfully, several international organisations are engaged in research and discussions about violence against women, not only in the private sphere but in the public arena of politics.  In advance of this year's elections in Zimbabwe, the International Foundation for Electoral Systems (IFES) released evidence that "women engaging in Zimbabwe's elections as candidates, voters and journalists experience devastating sexual extortion, physical and sexual violence, harassment and intimidation."  Last year UN Women, together with the UNDP, produced a practical programming guide to help mitigate election-related violence against women. The National Democratic Institute (NDI) has, for the last two years been collecting information and has produced valuable information on violence against women in political processes.  Two campaigns, in particular, highlight and document the threats to women political activists – #notthecost – and specific, election-related violence – Votes Without Violence.
Last year, I advised the YWCA of Papua New Guinea (PNG) as they conducted focus groups of women to discover how gender-based violence impacts women's participation in the election process.  While there is broad agreement that PNG is "one of the most dangerous places to be a woman," I was shocked at the extent of election-related violence against women.  A majority of women admitted to voting the way their husbands instructed to avoid violence.  Threats of divorce – and the public shaming that comes with that status – were enough for some women to stay at home and not exercise their right to vote at all. In the course of our work around the world, we often meet political activists who report harassment, intimidation and threats targeting them and their families.  In conservative communities, many female political aspirants withdraw rather than put themselves and their families through public shaming.
We have also met many courageous political activists who are determined to develop strategies to mitigate and end gender-based violence. Most importantly, many activists are using technology to provide safe spaces for women to share their stories and talk about gender-based violence. Closed groups on social media allow women to speak up and find resources to help them break out of violent relationships.  Ending the silence and breaking the taboo is an essential step to ending violence against women. That's why "Hear Me Too" is a powerful theme for this year's International Day for the Elimination of Violence Against Women. 
Far from a lone Canadian member of parliament raising her voice when others were silent, we should all participate in the discussion to end violence against women.  Sadly, Margaret Mitchell died last year (appropriately on International Women's Day), but I believe she would be encouraging everyone to participate in Hear Me Too conversations every day, not just on November 25.
Written by Francesca Binda, President of BCI