UN Women and UNDP – new guide for election management bodies
Having just completed a project evaluating a program of an election management body (EMB), I was excited to discover a new publication conceived by my former colleague, Julie Ballington (follow her on Twitter: @demo_crazy).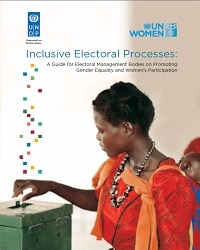 Not only is this a great, step-by-step guide for EMBs on how to ensure electoral processes are more inclusive, it is also a great resource for civil society organizations who monitor election processes and the work of EMBs.
Contributors of the guide are a "who's who" of the election world and several EMBs from around the world were consulted and surveyed for the guide.  For all you election wonks, out there, it's a great read!
Francesca
Inclusive Electoral Processes:A Guide for Electoral Management Bodies on Promoting Gender Equality and Women's Participation