New Report on Decentralisation in Jordan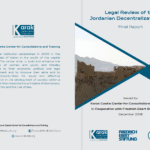 BCI recently collaborated with the Karak Center for Consultations and Training in Jordan to evaluate the Kingdom's decentralisation law and its implementation at the local level.  The project team, funded by the Friedrich Ebert Stiftung, conducted focus groups and in-depth interviews with members of Governorate Councils to hear how, one year after their election to new structures, they are carrying out their new duties and what challenges exist at the local level.
What's at issue with the law?
Since the beginning of the debate on decentralisation, various national actors — especially civil society organisations — have criticised the law for not meeting expectations.  The law contains many contradictions with other existing legislation.  Critics have suggested that the 2015 law does not give elected councils any real powers on the ground and have pointed to a conflict of competencies among the various local governing institutions.
Since the introduction of decentralisation in Jordan, various stakeholders of civil society organisations and political parties have provided recommendations to improve the system.   The Ministry of Political and Parliamentary Affairs and the Prime Minister have also held several meetings with various actors involved in governance.  Until this recent project, there was no comprehensive discussion with the elected officials, themselves — those most involved in the implementation of the new system.
The project
The project team conducted two sets of research:
Focus groups in 11 governorates with a total of 98 elected members of councils
Key informative interviews with all the heads of the 12 governorate councils
Key informative interviews of 32 of the 36 elected female members of the governorate council
The team also conducted a comparative analysis of decentralisation regimes in Tunisia and Morocco to extract best practices and develop recommendations for Jordan.
The report
Available in English and Arabic, the report summaries the research, including insight from those implementing the new system at the local level and provides detailed recommendations to strengthen decentralisation in Jordan.  The report captures the perspectives of members of the governorate councils, examining their experience as the first to hold this office. It attempts to identify where councils are succeeding and where there is room for improvement.  It is not a critique of a policy or an attempt to judge the process of decentralisation.  All participants expressed their Support for the concept of decentralisation and provided information valuable to lessons learned discussions.
Final Report in English: Legal Review of the Jordanian Decentralization Law
Final Report in Arabic: Legal Review of the Jordanian Decentralization Law